09 mai 2008
I first have to apologize for not yet taking the time to write on this blog...My contract with the French Trade Commission is over in a couple of weeks after more than 2 years spent in Bombay facilitating (or trying to) business relations between French and Indian Companies.
The idea of coming back by bike to France has come up more than a year ago while drinking and enjoying the evening at one of numerous expats' parties (usually located in their terrace apartment dominating Mumbai's skyline... I believe you can have worse locations to party in the city...). What started while boozing as a light hearted conversation with Adrien about the possibility of taking a Bullet (name of the mythic Enfield model we are both owning now) by road, became a reccurent topic everytime we met. What seemed like a dream impossible to achieve, is slowly but surely taking shape...just a few weeks before departure!
I'll take time to relate the pre-preps we are currently undergoing in other posts but basically they are as followed:
- bike making (yes, only the chassis was there when I bought my bike) and the administrative work that comes along (transfer of ownership, bike passing, etc.),
- bike maintenance learning (never rode a 2-wheeler equiped with an engine in my life before coming to India (do not worry mama, I have ridden more than 15 000 km since then) ,
- deciding which countries to go through and obtaining the visa(s) accordingly,
- obtaining international driving licence and carnet de passage
- arranging the shipping of the bike by air or boat to Dubai,
- packing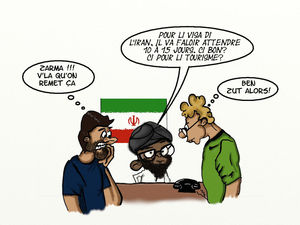 Yesterday, Adrien and I went to the Iranian Consulate in Bombay to obtain our visa to cross the country - it should be the only visa we require actually for the entire trip. Papers have been submitted to the visa section where we were told to call back in 2 weeks time as we are non-indians and an authorization from the Iranian Ministry of Foreign Affairs is required before any visa delivery.

Tomorrow is a big day as we are going to fix racks on the bikes that will allow us to pack everything we need for the 2-month max journey....




A bientôt with more news and pics
Commentaires sur How it all started...