06 juin 2008
Dear all,

We have reached Dubai on wednesday. Surprisingly Air India flight was good : it was on time and almost empty!
After 3 hours spent in the customs (we had to pay some duty despite our carnets de passage) we found an indian guy to lift away our bike boxes and take us to an empty street to unload them and to break them to release the bikes. We spent 4 hours trying to break the boxes and to reassemble the bikes. It was hot and my bike didn t seem to want to work and move. We gave up fixing it at 11 pm and decided to leave them in a garage owned by a guy from Kerala. We spent the next 2 days fixing the bikes, well my bike, with Anil - now another garagist friend of ours - probably one of the many to come! The carburator was not well fixed and we had to change the bearings of my front wheel as well. I also had a flat tyre... a lot of work and 0 km done! We finally drove off today and did 40 km in the heat of the city. Yes indeed Dubai weather is hot: around 45 degrees and plenty of humidity to sweat like never before (and we lived in India 2 years!)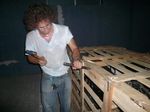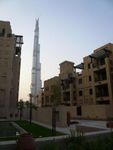 We spent some time shopping in the huge malls and eating junk food before our departure to Iran : we are hopefully going to catch a ferry to Iran (Bander Abbas) tomorrow morning from Sharjah.

As I am writing this post I am realizing that India is behind and am sad to have left the life I had there, my workmates, my friends. Thanks to all the Pakis and Keralites working in Dubai, I still feel the subcontinent is not to far and it feels good...

Now we shall move on and get into the real Long Way Back...

Lots of love,

May the road be with us!

Ps: some pictures of dubai will come in later...we have some funnny ones to share...i just have to figure out how to reduce the pictures' size on cybercafes' computers. Any suggestions?
Commentaires sur First stop : Dubai