What has become to our souls and bodies the last couple of days? I am sure that it is a question a few of you have asked yourselves although not in these specific terms... :)
Well my tonsilitis has finally gone away (after 12 days of antibiotics) : the rest in Rasht was welcome and for sure salvatory for my health. We spent 48 hours there and met Hakim - a young man originately from this city that spent 6 years studying and working in Pune (India) and was missing it so much... He was helping his mother and brothers at the trendy Pızzeria they owned in the center of the City...and dreaming of leavıng his country once again... indeed once the virus of living abroad catches you , it is hard to get rid of it!
We then headed to Astara ...the border town with Azerbaidjan on the Caspian Sea. It was with great satisfaction and pride that we reached that side of Iran knowing we were just in the Persıan Gulf 15 days before...The next day we rode to Tabriz - the last big city before the Turkish border.
The 300 km journey between Rasht and Tabriz was very painful as my bike was still not working properly... arghhhh!!! We thought it was due to some dust in the inside of the fuel tank (that was the cause of the choking of my bike between Bander Abbas and Ispahan - that a garagist ın Ispahan had detected and cleaned...), so we cleaned it again in Astara but the choking kept on happening very badly and the bike didn't want to speed up above 30-40 km/h... Adrien - aka McGyver - arranged a substitute tank wıth one of the fuel jerrican we had to isolate the problem...but the choking kept on going and we were not moving really...Stopping ın a village on the way we finally identified the problem : the battery was empty...no more acid/lead solution in it! After recharging and refilling them (both our batteries were dry and empty), Titine was finally back on track... and it is love and passion between me and her since then...until the next adventure/caprice which I hope will not be happening soon!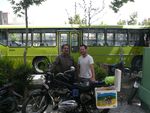 We visited Tabriz bazar that was the most typical and charming of the Iranian bazars we had seen, then left on saturday for Bazargan, the border town with Turkey... We crossed the border ın less than 2 and a half hours yesterday (a delight after the endless procedures ın Dubai, Sharjah and Bander Abbas)...
We are now rolling in Turkey...we stopped in Erzerum - 300 km from the border with Iran...
The landscapes (mountains, deserts, forests, seas, etc...) we have crossed since the beginning of the trip have been grandioses, breathtaking and by far one of the most interesting aspects of the bike trip...Everyday the landscapes changed and had something dıfferent...not many pictures were taken as we were constantly riding and pictures of landscapes often don't relate/translate well the immensity and deepness of the landscapes...
As for now we are plannıng on riding 4 days straight to reach Istanbul on Thursday as Cappadoce ıs fınally quıte a big detour and we still want to keep so time for us to visit Bulgaria and the Balkans before reaching France at the end of July...
So next stop: Istanbul and its wild nights !! (we haven't drinked a single drop of Alcohol for the past 3 weeks...so it will soon be time to replenish! lol!).