17 juillet 2008
Dear all, as told in the previous post we have been going through a few adventures since our stay in Istanbul...who would have guessed that after reaching Europe so many exciting things would have happened to us?

We left quietly Istanbul to enter the lovely country of Bulgaria in which I already stopped for a couple of days in 2004 and had a very good memory of its landscapes and people! The country was cheap, especially beer and greassy food (what can supertramp bikers like us expect more that these 2 basic ingredients leading to immediate full content of our stomachs!?). The cities are lovely (we stopped 2 days in Plovdiv).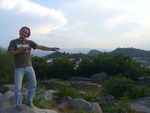 On the way to the Macedonian border my bike got big problems. We were in the mountains and had stopped for lunch in the lovely town of Velingrad (filled with spas and resorts) when after the lunch, going uphill my engine shut off completely. We took a cool attitude (we are getting used to the capricious ways of Titine!) and took off the top engine covers to discover that one of the main pieces was broken along with some screws that had badly broken......) arghhhhh.... that was more work forseen than what even a good mechanic would have been able to do! We went back downhill towards Velingrad thinking - I have to admit - that the Long Way Back was going to stop for us in Bulgaria - at least for me. Once downhill and pushing the bike to enter the town, Providence came at the most opportuned moment in the form of a tall and strong man in a car stopping at us and saying in English : 'Oh this is Enfields! I am a biker, and my house is very near; do you want my help?' Of course we don't mind for help but warned him that the problems with the bike was this time everything but minor. He took us to his home where he had set up a neat garage for his bike with all the tools you can dream of when you want to repair your bike. He saw us from his home struggling with the bike and wanted to help! Thanks the Lord for this!!!...His name was Martin, was a biker since 22 years and loved to work on bikes. As a profession he was a massage man in one the many spas in the city. And ALLELUIA, he understood the problem and we removed the cylinder head entirely and took it to some of his friends who had machine tools to make new screws, and repair one of the valves that was burnt (that meant a lot of grinding on the cylinder head - not a little job...). We ate at his home and he found us a room in the city for 2 nights. We worked with him (or rather watched the master) working for hours on the bike...We met his best friend who was an orthodox priest ... and a biker : he had a 1900 cc Yamaha and a 1959 model BMW...After less than 48 hours the bike was repaired and ready to roll! I told you a thousand time Martin and I know it will never be enough ...but THANK YOU! It is more than luck that we found you...I put in on the account of Providence! Moreover we had a fun time in Velingrad visiting Anton's church where he performed a very well sung prayer for us to have a good journey back to France. He also showed us his house and his collection of of guns and riffles (Germans, Russians, Belgiums....). Please find some pictures bellow so you can see all that with your own eyes...it is definitly quite funny....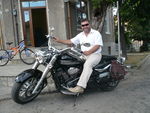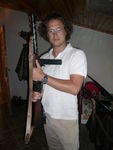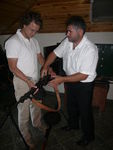 When it was time to leave for us they made us promise to come back to Velingrad and ride with them for a couple of days...but this time not with Enfields - 'this bloody Indian bikes!'
Commentaires sur Velingrad, Providence, Martin and the Biker priest!