After Velingrad our plan was to reach the Adriatic going through Macedonia and Albania. Reaching the Macedonian border, we decided to take another route (through Greece and then Albania) because the customs officers declared to us that the insurance cost was going to be 50 EUR per bike!!! Too much for less than 24 hours we thought...sniff! Macedonia will be for next time! It took us 3 days (and 3 nights of wild camping) to cross the north of Greece and Albania in order to reach Montenegro...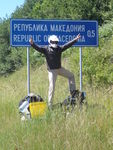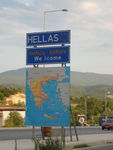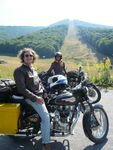 Albanian mountains are amazing and the people are very friendly... it seems they come from another dimension...a medieval time I would say. Some attitudes and atmospheres reminded me of India. Once by the coast it is different and the magic of it is gone... The only thing that is missing the most in Albania are good roads...and even sometimes roads!! Let me explain : we bought a map of Europe only...so the scale is not precise and you only see main roads on it. There was a white road trace on the map that seemed to go down a valley towards the Adriatic for 100 km...we decided to take this one thinking it would be a lovely ride in the mountains without the inconvenience of the main road...indeed it was lovely but for more than 50 kms there was no road at all...barely a track with bigs stones and potholes - a track similar to the ones you take when you want to hike in the mountains...The Enfileds did a good job (they are almost like trial bikes) and that part was fun (the mountains were only to ourselves!!)....
Cheers
Germain
PS: we are now in a Fjord (who knew there were Fjords in the Mediterranean sea??) in Montenegro not far from Croatia. We will stay in Dubrovnik tomorrow afternoon having spent 2 days in the Saint Tropez of Montenegro - Budva. Our impressions on the Adriatic coast will be related later on...