02 septembre 2008
We left Duboka and our new friends Martin and Gunni (see previous post) with a little pinch in the heart after their great welcome and hospitality. We were happy the bike was working again - but for how long? Would it hold to Montpellier? I was indeed quite anxious as the noise made by the valves coupled with the mysterious noise inside the engine was very strong. I couldn't ride above 60-65 km/h because of it. Our decision was to ride again and ride non-stop to Franceor as far as my engine would let us go… The good thing about these last repairs is that we finally understood more all the previous problems Titine went through – thanks to all the explanations of Gunni the Maestro who has clearly a gift for thinking system wise! The cool thing about the repairs that Gunni undertook was that the bike gained a lot of torque : I finally was going much faster Adrien uphill and this sensation of extra-power that Titine never gave me before was delightful.

It took 4 full days to reach France from Duboka sleeping in the wild and riding during the day. We had one breathtaking wild camping in the mountains of Slovenia 2 kilometers from the Italian border overlooking Trieste and the Adriatic. Despite some oil leaking from the gasket we reached Menton in Southern France the night of the 26th of July (for the story, we went back to Italy that night not finding any good camping site to sleep in France). On the 27th, we reached Nice. For Adrien and I it was time to part away after one month and 3 weeks living and travelling together: Adrien had called his grandparents and was expected in Cannesbefore going to spend his holidays in Corsica. I was expected in Marseilles the same evening. The goodbyes took place in a parking lot in Cagnes-sur-Mer. We then both went our separate way full of good memories of the journey and still very excited about what we had achieved and the idea of seeing our families and friends soon!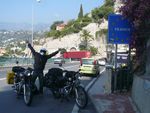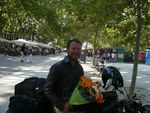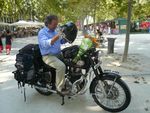 After a one-night stop in Marseilles at some friends I reached Montpellier - my Final Destination - the 28th of July. The closer I was getting to Montpellier the more excited I was. I was congratulating Titine, telling her she had to hold only a few kilometres. I was also having flashbacks of all the strong (good and bad) moments of the journey – our Long Way Back. I couldn't keep repeating to myself: 'We did it; I can't believe it…thank you lord!' My dad was waiting for me on the Esplanade of Montpellier with some flowers and a Champagne bottle for the occasion! He sat on the bike , and since I hadn't seen him over a year we chatted a lot while drinking the precious Wine which had a taste of victory and satisfaction!

The Long Way Back is Over….
Commentaires sur Reaching France...