18 avril 2008
The Long Way Back - 7 000 miles back to France!
Germain and Adrien - two Mumbaikars originally from France - will attempt to come back to the country of cheese & wine on their Enfield bikes.
Departure: beginning of June 2008
Arrival: Insha Allah by August of the same year
Initial route: Bombay-Dubai-Iran-Turkey-Europe
Preparations for the journey: still in process and waiting for administrative appovals...duhh we are in India!
06 mai 2008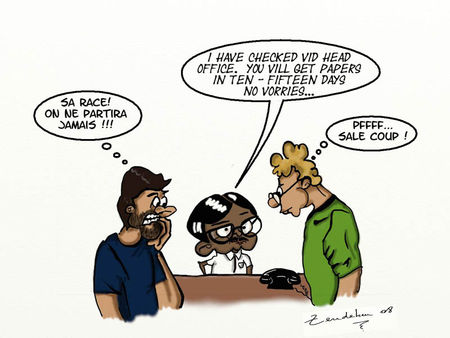 Cartoons : courtesy of Master Zendebeu
09 mai 2008
I first have to apologize for not yet taking the time to write on this blog...My contract with the French Trade Commission is over in a couple of weeks after more than 2 years spent in Bombay facilitating (or trying to) business relations between French and Indian Companies.
The idea of coming back by bike to France has come up more than a year ago while drinking and enjoying the evening at one of numerous expats' parties (usually located in their terrace apartment dominating Mumbai's skyline... I believe you can have worse locations to party in the city...). What started while boozing as a light hearted conversation with Adrien about the possibility of taking a Bullet (name of the mythic Enfield model we are both owning now) by road, became a reccurent topic everytime we met. What seemed like a dream impossible to achieve, is slowly but surely taking shape...just a few weeks before departure!
I'll take time to relate the pre-preps we are currently undergoing in other posts but basically they are as followed:
- bike making (yes, only the chassis was there when I bought my bike) and the administrative work that comes along (transfer of ownership, bike passing, etc.),
- bike maintenance learning (never rode a 2-wheeler equiped with an engine in my life before coming to India (do not worry mama, I have ridden more than 15 000 km since then) ,
- deciding which countries to go through and obtaining the visa(s) accordingly,
- obtaining international driving licence and carnet de passage
- arranging the shipping of the bike by air or boat to Dubai,
- packing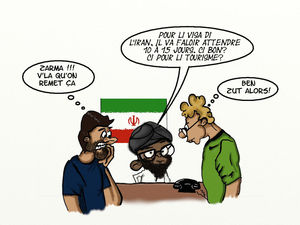 Yesterday, Adrien and I went to the Iranian Consulate in Bombay to obtain our visa to cross the country - it should be the only visa we require actually for the entire trip. Papers have been submitted to the visa section where we were told to call back in 2 weeks time as we are non-indians and an authorization from the Iranian Ministry of Foreign Affairs is required before any visa delivery.

Tomorrow is a big day as we are going to fix racks on the bikes that will allow us to pack everything we need for the 2-month max journey....




A bientôt with more news and pics
13 mai 2008
Today was an important day for the preparation of the journey, as I finally went to pick up the Certificate of Registration of my bike at the Western Indian Automobile Association (WIAA) where I am a member.
I bought my bike more than a year ago but didn't take the time to register it on my name, by negligeance I admit but also because I knew that I would never be in trouble in India if the cops arrested me and I didn't have my bike papers with me. It never happened anyway and when arrested a couple of time (it's quite usual as they are often curious about a foreigner riding a bike in the city), I was only asked to kindly show my driving licence. The encounter would most of the time end on a nice note chatting about Mumbai life, asking if I were married and if I liked spicy food... A few times I had to give a little something in cash (my favorite part in it was negociating the bribe!)...anyway it was always fun at the end!
For the trip I of course had to get everything proper and make the arrangements to transfer the bike from the previous ownership (an unknow-to-me Mr Desai living in the northern suburbs of Bombay) to me through one of the flagship departments of the Indian Administration : the Regional Transport Office (RTO) ...ohlala...if you are living in India, you know that Indian Administration is really corrupted and one of the slowest in the world...
I had 3 solutions in front of me:
- go to the RTO myself and camp there for one month in order to get the transfer of ownership done. I am exagerrating a bit for the one month spent but I should have to take a lot of free time to go to the differetn RTOs - but only one office would be to simple - and explain my case to an army of local babus - the local name for the dedicated superintendants of the local administration!
- ask the services of an 'agent', pay him a good amount of money (around 4 to 6 000 INR - yes bribes fees are very reglemented and fixed in the Indian administration) for the paperwork to be done with no questions asked.
- finally go through WIAA who has an agreement with Mumbai RTO to facilitate the transfer of ownership
As I am an ethical person (ok no comment) and I didn't want to loose my temper trying to solve the matter with the local babus, I opted for the last solution. I will spare you the endless procedures (bike passing, tranfer from one RTO to another, etc.), but after more than a month and a half of phone calls to make sure my case was properly handled, going to the WIAA office to carry out all the necessary paperwork I was finally granted the certicicate of registation of my bike on my name which you can see below:
Ok, it doesn't kick a$$ but I love the vintage look of the 'thing'. Please admire the piece of paper with my signature on it glued to the book. What a craftsman work!
21 mai 2008
As Adrien and I are leaving in less than 3 weeks for Dubai, it is time for me to give you a little history on the mythic Royal Enfield. Everybody in India and bike aficionados will know about about the Enfield Bullet but for most of you this name must not ring a bell…
Mythic is usually the superlative used by any Enfield owner or lover when it comes to describe the mythic English brand (sorry I can't help it).

I am sure you are dying to know a little history on where it is coming from, how it came to India and was bought over by an Indian vehicle manufacturer - Eicher Motors – and is still manufactured in Chennai, Tamil Nadu… Indeed, the Bullet is the only "vintage" motorcycle in the world still in production…
The origin of Royal Enfield: from rifle parts to motorbike making
The Enfield Cycle Company was most famous for manufacturing motorcycle in Great Britain in the 20th century, but the company started to manufacture bicycle and rifle parts for the Royal Small Arms Factory in Enfield in 1890"s. That is where it got its name. This legacy of weapons manufacture is reflected in the logo, a cannon, and their motto "Made like a gun, goes like a bullet".
The fist motorcycles were designed and produced at the end of the 19th century. They supplied bikes the British army mainly for military purposes on the first half of the 20th century (for WWI and WWII) .
Rising of the Bullet (informations provided by wikipedia)
The Bullet as we know it today was designed in the late forties and early fifties, was tooled for production fully by 1955 or so, and has not changed much since
In 1949 the first new models were introduced: the 350 cc full sprung Bullet, and a 500 cc twin. The sportier alloy head, swing arm frame 350 cc Bullet was a sensation. It was the 1954 350 cc Bullet model which was to be made in India until the present (read further down). In 1953 the 500 cc model appeared, using the same bottom end. After 1956 a new frame was introduced in the British-made version of the Bullet, making it different from the 1954 model still being produced in India. The British made version was manufactured until 1964. The Redditch factory ceased production in 1967 and the Bradford-on-Avon factory closed in 1970, which meant the end of the British Royal Enfield.
Royal Enfields had been sold in India from 1949. In1955, the Indian government looked for a suitable motorcycle for its police and army, for use patrolling the country's border. The Bullet was chosen as the most suitable bike for the job. The Indian government ordered 800 350 cc model Bullets, an enormous order for the time!
In 1955 the Redditch company partnered Madras Motors in India in forming 'Enfield India' to assemble, under licence, the 350 cc Royal Enfield Bullet motorcycle in Madras (now called Chennai). In 1957 tooling equipment was sold to Enfield India so that they could manufacture components. The first machines were assembled entirely from components shipped from England, but by 1962 all components were made in India.

The Indian Enfield uses the 1960 engine (with metric bearing sizes), in the pre-56 design frame.
In 1994 Eicher Group bought into Enfield India. In late 1995, the Enfield India firm acquired the rights to the name Royal Enfield. Royal Enfield of India now sells motorcycles in over twenty countries.
They are being imported into the United States, United Kingdom, and other western countries in increasing numbers, though the newer versions (2001) with electric start are becoming more popular than the 'classic' version which is little changed from 1955. There are a few changes: indicators, a 28 mmMikuni carb, 12 volt electrics, an improved seat and, since 1990, twin leading-shoe brakes.
That's it for today folks!
Germain
26 mai 2008
Brief news:
We are still waiting for the approval from Teheran for the Iranian visa. We are crossing our fingers to have the Go from the Iranian consulate in Bombay in order to send our bikes to Dubai by air cargo. The carnets de passage required for the passing of the bike in Iran are ready and need to be picked up at the Automotive association's office. The freight forwarding company has been identified...
Ideally we would leave Bombay by plane by the beginning of next week...but that only depends on the iranian visa now!
Otherwise, we are finalizing the preparation for the bikes: the rack has been put on the bike, a metal box has been made to to fit on it and is being painted (i'll put the pics by thursday or friday once the artist work hs been completed, it should look quite cool). Tomorrow we are going to spend the afternoon at our garagist to learn a few mechanical tricks: clean the carburator, remove the wheels, change the cables, understand the wiring system of the bike, change the chain, etc...
The weather in Mumbai is right now very warm and humid and makes the preparation even more tiring. Adrien and myself's farewell party took place in my flat last saturday. I call it a success as there was about 60 people in the tiny space and my hangover the next day was quite painful! The floor was so sticky the next day that it was not even funny. It was a good way to say good bye to our friends...
Here are some more cartoons beautifully drawn by our good friend Nico (alias Master Zendebeu)!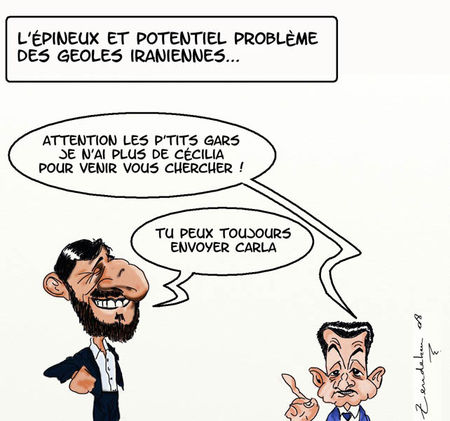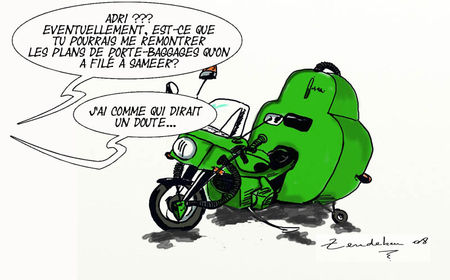 Cheers
30 mai 2008
We finally have our iranian visa...what a relief! Well, technically, we do not have it yet as we have to pick up our passports at the Iranian consulate this afternoon. The tension of not knowing when we would leave has gone but has been replaced by the stress of finishing all the preps on time!
The bikes have to be ready by tomorrow (or sunday..time is flexible here - see below!) for packing and sending to Dubai (it took us a good 2 weeks to find a someone to pack both bikes in a wooden crate at a reasonable price). "Wooden boxes for bikes? Easy to make, easy to find, cheap price my friend" would any babu on the street tell you! But when it comes to actually find the person who is skilled enough to make you a good air cargo box, nobody is there for a reasonable price! This is one of the thing in India that I am still having a hard time to adjust to...I think it has to do with the different conception of time : The guys always tell you Khal, khal (tommorrow), the time is flexible and makes them do multiple things at the same time, garanteeing you things that they know they won't be able to do on time... This cultural difference in time management is fascinating to study but to live it day by day on the field can be frustrating, especially when you have a time constraint!
I fortunatlely was able to find a leading company in manufacturing of wooden crates in a narrow street of Byculla (muslim district in south Bombay). The deal has been done around a cup of chai (indian tea) with Shabbir and his son Mohammed. The box should be ready and assembled around the bikes on saturday. Tempo (commercial vehicle) will then be organised to take the bikes to the international airport cargo terminal...

Lets just hope that Sajid - our garagist - will realise that the bikes are leaving tomorrow and that he'll have to move his a$$ by today to give us the spare parts and make the last modications on our bullets...I don't care I am camping in his garage if needed, but not much hope...no matter how hard we tried with Adrien, we were never able to change Sajid's way of working!

Hopefully (and sadly) we'll leave India by next Wednesday or Thursday...First destination : Dubai....
02 juin 2008
Things are moving fast, very fast. The last couple of days were very fruitful in terms of packing : packing of my stuff, packing for the long way back, packing the bike itself for shipment, and putting the entire package into a truck for the airport! Be ready for the update this different ways of packing and the pictures coming along:
- Packing of my stuff (clothes and everything I piled up during my stay here in India): 105 kg in 3 boxes…not too much for a guy who has been living here for 2 years. A freight forwarding company is supposed to come to pick up my luggage at my place before I leave for Dubai(that is to say Wednesday). I was not going to carry these 100 kilos on the bike…that would have been suicide! No pictures (the boxes are not sexy at all!)
- Packing for the Long Way Back: after putting the rack on the bullet two weeks back, there was a need to find appropriate luggage. So we asked a local welding wallah (a guy who could weld us a metal box) to make us a box that would fit perfectly into the rack…it will carry our spare parts among other things (tent, sleeping bags…). I asked an artist to paint on it a copy of the cartoon Nicolas has drawn for the Blog, as well as a small Ganesha (a Hindu god who will bring us prosperity and luck for the journey). I am very happy by how it came out. See the result for yourself right below:
View of the top of the box The artist
- Packing the bike. A little reminder: we are sending the bikes to Dubai by Air Cargo. A strong wooden crate was required for the transportation of the bike. As I told you in my previous post, I found a box wallah (by now you should have understood that it means a guy that makes boxes!). Seize of each box: 260 kg (190 kg for the bike & rack and 70 kg or the wooden bow itself). Well my bike is bigger than Adrien's but everybody knew thatJ! Shabbir and his son Mohammed came with their workers and family on Sunday morning at my place to assemble the boxes. They made a very good job – very professional and efficient work. A delight! See again for yourself below:
- Finally we had to put the wooden crates into a truck to send it in the cargo office at the International Airport. We of course had to hire a truck wallah (I'm sure you would have guessed that by now!) that came this morning –waking me up at 7.30 after a very short night. Adrien and a couple of strong/shakti Indian guys had to lift the 250+ kg boxes into the truck (I was taking the pics, an envious position I would say, héhé!). See Adrien's muscles in action right below:
Our bullets are sleeping tonight in the customs warehouse at Bombay Airport. We are already missing them (sniff, sniff), but looking forward to ride them in Dubai by Wednesday!
03 juin 2008
Air India plane to Dubai departing on Wednesday, 4th June 2008 at 14:45 from Mumbai International Airport...
Bye bye Bombay, bye bye India my love!
Tension, anxiety, sadness are the emotions that are starting to hit me at the end of this 'slice' of life...
Tired by these last two weeks of preps in the heat of the Summer...but happy and almost content :)
I'll see you all again my friends from India...
Just one more word to say: let's get this adventure started!!! VRRRROOOUUUUUMMMMMMM!!!
Germain
Sajid and Javid are 2 brothers reparing and making old bikes : BSA, BMW, Triumph and Enfields...
I could write a long article on them as we spent long hours at their workshop in Mahim West (Mumbai) with Adrien...but lack of time today because of imminent departure for the Long Way Back!
A big thanks to them and their mechanics....and a few pictures of the place and the men who know how to take ity the Aram Sey (= take it easy attitude) way: